Carrie Ellis, formerly West, came to Willow Park six years ago and immediately made history as the first female chief of police in Parker County. More than that, a lot of folks think she was one of the best chiefs the county has ever known, all due respect to other chiefs.
But, as the great singer/comedian Jim Stafford sang in his song "Wildwood Weed," all good things gotta come to an end. Google him and the song, youngsters, it's really quite funny and somewhat ageless — perhaps even more so in today's times.
In all transparency, I do not now nor have I ever lived in Willow Park. Had fate sent me there I would gladly call it home as pretty much everyone I've ever met from the city has been nothing short of nice, though I have a feeling Mayor Doyle Moss might beat me thoroughly should we play a round of golf.
But time on the links aside, from the mayor to City Manager Bryan Grimes and City Public Relations Director Rose Hoffman, whom I've known longer than — well, let's just say a while as the exact time would age us both more than I'm sure we care to share — I am proud to call numerous folks in the fine city a friend.
And that includes Ellis. From the first time I interviewed her I could tell there was something cool about this lady. She's a forward thinker, and goodness knows the world can use all those we can find.
Well, Willow Park found one and she set about to make a difference in the community. I could now provide a long list of her accomplishments, but let's just say the folks in Willow Park are much better off today because of her — again, all due respect to those before.
However, a few things have to be mentioned, such as her strong focus on competitive hiring and promoting, along with getting the department to the prestigious level of "Recognized Agency" with the Texas Police Chiefs Association in 2020.
More recently, she helped Trinity Christian Academy in Willow Park with an onsite officer program. She and the department also acquired funding for better patrolling of the part of Interstate 20 that runs through Willow Park during the busiest times of the year.
We shared a laugh after that last one as I've been driving through Willow Park doing no more than 65 mph for years, only to be told by Ellis that I've actually had five miles per hour to spare and might actually be slowing down traffic.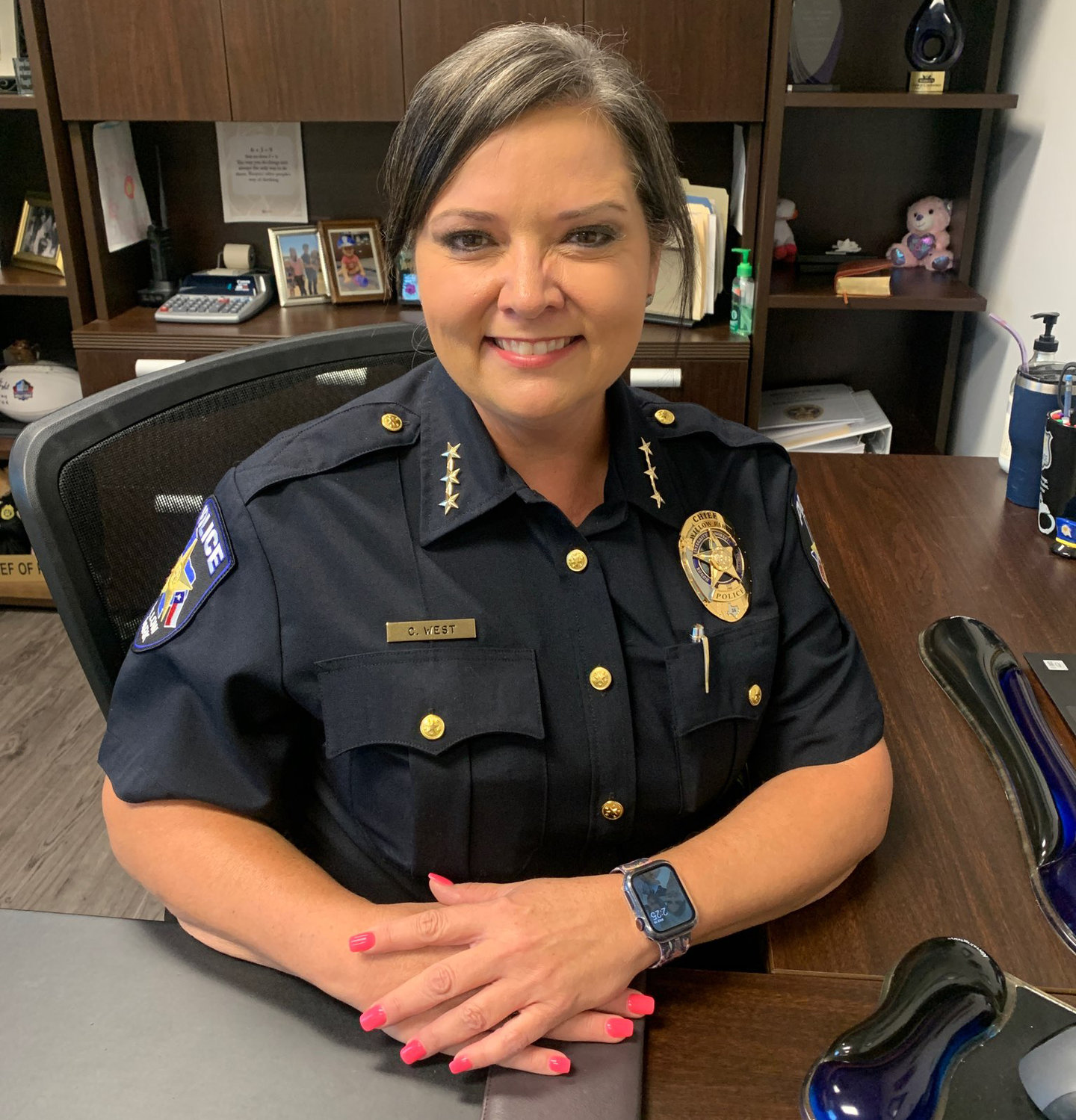 This kind of creativity and accomplishments win folks awards, and Ellis was indeed awarded the East Parker County Chamber of Commerce's Pappy Thompson Community Service Award in 2020.
On a personal level, Ellis has always been respectful of my position in the media, something we don't always get with law enforcement officials — and, in all honestly, my business does have folks who will put a scoop before feelings. We don't do that, however. We have a job to do, but that doesn't mean we can't do all we can to spare a reputation, or at least soften a blow.
Ellis gave me a chance to earn her trust, and I thank her for that. After all, she understands we are both serving the public and trust is a must if we are both to be good at our jobs.
Ellis is also personable, a great quality to have in a leader. I never saw her make an arrest, but I'm sure she could be tough, all the while having compassion necessary to let the perp know they would get fair treatment throughout the whole process.
And though I never saw her much except at city council meetings, mostly, there was a lightheartedness that showed she was more than just the job. She not only knows how to laugh at a joke, but also to come back with great zingers of her own.
Carrie recently married a fine man, Gee Ellis, the chief of police in Belton, a great city in its own right. I know, my son grew up there.
It's hard to be away from someone you love. I spent only a few months flying back and forth to Colorado on business, staying a week or two at a time, after my wife Junell and I moved back to Texas. I understand and applaud Ellis for putting the love of her life first.
Daniel Franklin has been named the interim chief of police in Willow Park. He's a good man who will do a wonderful job leading the city until a decision is made on giving him the position permanently or hiring someone else from outside. Working alongside Ellis since 2018 as the assistant chief, he was also instrumental in the department's advancement.
And, should he have the interim label removed and be given the job, I look forward to working with him. Like Ellis, he's someone who's easy to communicate with, be it talking official business or asking how the family is.
Ellis promised to stay in touch with the folks in Willow Park, calling them family. It's amazing how close folks can get in a short time when there's genuine caring for each other going on - and it's obvious Ellis and her Willow Park family do share something special.
Good luck Chief Ellis. Whomever is fortunate enough to have you as their next police chief hit the jackpot.
Rick Mauch is a free-lance journalist and a regular contributor to The Community News.